HungryFEED can't get feed. Don't be mad at HungryFEED. SimplePie reported: A feed could not be found at http://fantasiauniverse.com/api/rss.php?preset_id=6090818. A feed with an invalid mime type may fall victim to this error, or SimplePie was unable to auto-discover it.. Use force_feed() if you are certain this URL is a real feed.
---
Mojang
Mojang
Some bugs in the game are more annoying than others. So we decided to take care of some of the bugs that were good candidates for winning a "most popular bugs" contest. We are very sorry for closing tickets with a large fan base. These issues will be missed, but we are relatively sure that their fans will find other interesting bugs to follow.
We are also getting very close to the first 1.9 pre-release. Please make sure you vote on the most severe bugs in the bug tracker if you want to make sure we look at them before releasing 1.9.
Notable changes:
Better riding mechanics for boats, horses, minecarts and saddled pigs
The elytra texture now defaults to the cape texture if no custom texture is uploaded and the player owns a cape
Some sounds are sounding better now
Some sounds are sounding different now
Most sounds are still sounding exactly as before
Most entities in the game should now move much smoother
Villagers are not making fun of players anymore when nobody is around
Bugs fixed in this snapshot:
Please report any and all bugs you find in Minecraft to bugs.mojang.com. If nobody reports a bug, we can't fix it!
To get snapshots, open your launcher and press the "New Profile" button. Call it "snapshots" and check the box saying "Enable experimental development snapshots" and save. To switch to the normal version, you can select it in the dropdown at the bottom left corner of the launcher. Back up your world first or run the game on in a different folder (See the "new profile" dialog).
Snapshots can corrupt your world, please backup and/or run them in a different folder from your main worlds.
Cross-platform server jar:
Report bugs here:
Posted: February 10, 2016, 3:10 pm
---
News
Get all the latest online gaming news at Curse.com! Our news is the best!
Sit back and enjoy this week's plays from LCS Spring Split Week 4, featuring ROCCAT, Fnatic, Renegades, Team SoloMid, Unicorns of Love, Team Vitality, Cloud9, G2 Esports, and Origen!
Posted: February 11, 2016, 4:59 am
---
Minecraft on reddit
Minecraft community on reddit. Please read the [rules](http://www.reddit.com/r/Minecraft/wiki/rules) before posting.
https://gyazo.com/9b8ececf7132fd98c93cce579cc8111b
Soooo stupid, rip minecraft. Mojang destroyed the singleplayer game when they made your save to only be downloadable.
Came back after a year to see that minecraft isn't even playable. Wow...
I'm accepting help however if anyone wants to give me some, the problems I am having is:
Blocks dont break after the whole block breaks, but it doesn't break.
Worlds aren't rendering correctly.
Rubberbanding, how do you even rubberband in a singleplayer game?!?!
Audio lag, which is so weird.
NPCS Stand still, if I manage to break the blocks below them, they hover.
THIS IS NOT MY PC, MY PC IS GOOD AND RUNS ALL TOP END GAMES AT MAX SETTINGS.
submitted by
/u/Klondikebar99900
[link]
[comments]
Posted: February 11, 2016, 6:46 am
---
The BEST Free Minecraft Mods on the net!
The BEST Free Minecraft Mods on the net!
LomLib mod has come to the world of Minecraft as a tiny mod. It has come with Minecraft versions 1.6.4, 1.6.2 and 1.5.2. This mod accumulates some common functions and features that are to be often used in some other mods.
This mod is currently being used to make-
MechroMagiks

DivingGear

Equivalency

Craft Cards
Installation:
Posted: January 1, 1970, 12:00 am
---
The Daily Block
Hey there! We're a unique community inspired Minecraft blog and server with dedicated players, fantastic staff and an awesome attitude. The core focus for us is to provide a great place for people to come together and have fun. If that seems like your kinda place, come join us!
Stellar rays.
Posted: January 15, 2016, 11:02 pm
---
HungryFEED can't get feed. Don't be mad at HungryFEED. SimplePie reported: A feed could not be found at http://www.theshaftpodcast.com/api/rss.php?preset_id=29138151. A feed with an invalid mime type may fall victim to this error, or SimplePie was unable to auto-discover it.. Use force_feed() if you are certain this URL is a real feed.
---
crafthub.net - Latest entries
The latest entries on the site crafthub.net
The bountiful update has been sewn together nicely by Mojang and we've been presented with a pre-release for testing! Here is a small roundup of what we have as part of 1.8!
First of all we have an enormous pile of new blocks to play with!
Andesite, Granite and Diorite with a polished version of both
Bouncy Slime Blocks
Prismarine, Dark Prismarine, Prismarine Brick and Sea Lanterns
Red Sandstone, Smooth and Chiseled Red Sandstone, Stairs and Slabs
Sponge Blocks
Coarse Dirt
Chiseled and Mossy Stone Brick, and Mossy Cobblestone crafting recipes.
Barrier Blocks
We were treated to a new generated structure for our 1.8 worlds, as well as several new mobs and drops.
Ocean Monument / Underwater Temple made up of the new prismarine blocks and sea lanterns and inhabited by two varieties of the Temple Guardian mobs. These drop shards to create the brick types, lanterns, and sponge blocks.
Endermen now have a chance to spawn Endermites when teleporting.
Rabbits were added to the game and they drop rabbit hide, raw rabbit and rabbit's foot. This has allowed the addition of Cooked Rabbit and Rabbit Stew cooking recipes, crafting of leather with hides and the brewing of Potions of Leaping.
Sheep now drop mutton for yet another animal food source!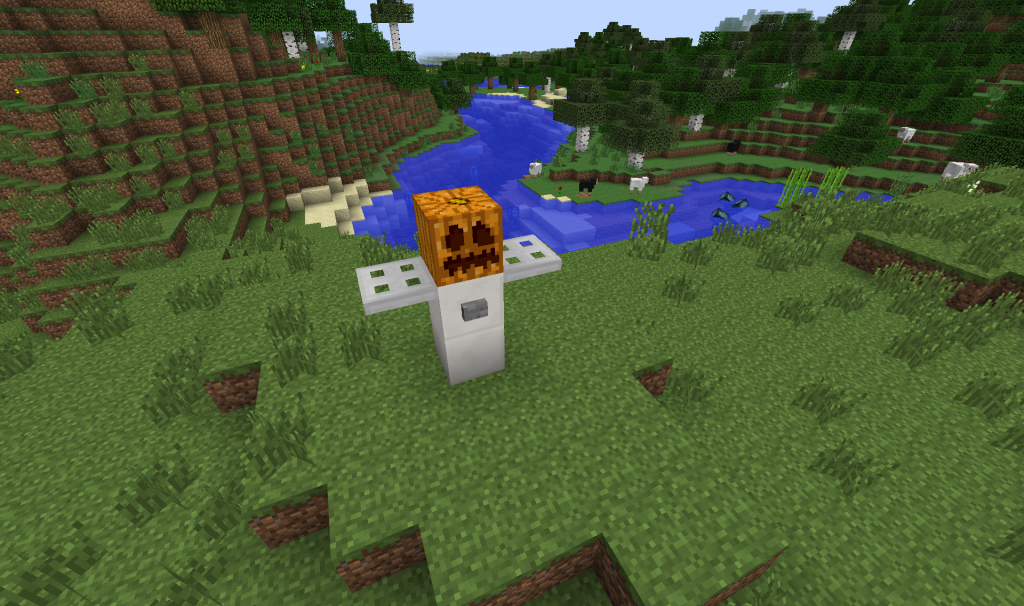 Other new items added to our arsenal of goodies for our 1.8 update include
The Iron Trapdoor
Buttons may now be placed on all surfaces of a block.
Armor Stands.
Customizable banners.
Doors, fences and fence gates now have a unique texture/color for each wood type used to craft them.
We had a massive shake up of the enchanting system, with lapis added as currency and levels required for renaming items have changed. Villager trading has changed dramatically changed with the addition of new villager types and the splitting of item trades off into their different villager types. Villager breeding has changed and farmers will now harvest and replant wheat crops. Player skins also got a makeover with two layers that may be toggled on and off in game, as well as individual skins for each leg and arm.
Mojang have introduced Spectator mode - game mode 3, a fully customizable world generation tool, a modifiable world border function and many WorldEdit style commands for the modification of world terrain. Adventure map makers were treated to a pile of new commands for command blocks, and a big scoreboard update.
For the full list of changed please feel free to visit the official Mojang website article here. You may also report any bugs directly to Mojang if you are playing on the pre-released version of the game!
Enjoy this article? Feel free to visit and register on our forums at forum.crafthub.net and say hello! You may also follow us on Facebook or Twitter for more news articles and Minecraft related information. If there is an article you'd like to see or if you'd like to write for CraftHub, send your ideas or questions to writers@crafthub.net.
Pantzz is a CraftHub author and sub-moderator. You can find him on Twitter at @PantzCo
Posted: August 24, 2014, 8:45 am