Fantasia Universe
News
As most of you will know, we are currently extremely busy refreshing your Fantasia Universe experience. The biggest thing at this moment will be the release of a brand-new Fantasia world! Now, before we start with all the new things you can expect: the old Fantasia world will stay online for 6 months after the new Fantasia is released. This gives you guys the chance to move over your stuff. You can even ask Staff to help you move over your house, though Staff decides on what gets moved over and what doesn't.
Okay, as for the new features, there are quite a lot of things in store for you. First of all, this is a fresh world, with a fresh Nether, even! We want everything to be fresh so we have decided to reset some stuff. Apart from the fresh world, the economy is to be reset and so is McMMO. Let's be clear here, Fantasia barely ever does resets. We haven't done economy resets in years and McMMO has never been reset before. Besides, you always get the chance to move over your stuff to a new world, so no issues there either. However, we do want to see you guys actually play the game. Currently it's a little easy to just do close to nothing and be rich. However, and this needs to be stressed: we will NOT do resets frequently. Please do feel encouraged to build everything up, because we don't expect resets for a long, long time. That's not what Fantasia is about. And if you've ever bought a rupee package in the Donation Shop, don't worry, we'll give you your rupees after the reset. Just contact an Admin to get that done.
There is some more economy news, by the way. We have decided to remove the bank. Please collect your XP if you wish to keep that, because the plugin will be disabled soon. We might look for a replacement, but for now, the bank's done. Now for some news that excites us most of all: the shop system will be changed immensely. To make it easier for you guys, NPC shops will be replaced with GUI-based shops! The same will happen with VIP shops! On top of that, Visitor and up will also be getting a varying number of spots on the player shop menu. There will even be some sort of auction-based way of selling things, which has been requested for a long time. However, we've made sure there won't be chat spam by the plugin!
Okay, that's enough in terms of economy. We've got more exciting features on the way. For some small ones, weather has been re-added to the server for one. If you guys don't like it, we can remove it, otherwise it'll be kept. Another one is the fact that the horse stables plugin is operational once again, visit http://goo.gl/Wj6lcq for more information. The last small one is about viewing distance. The server's viewing distance is now 32 chunks. You can set your personal viewing distance to less than that in your video settings. Please do this if the 32 chunks setting makes you lag!
The big ones? Alright then. We've got a lot of exciting new mobs ready to challenge you in the new Fantasia world. There will be all kinds of strange (and familiar) mobs waiting for you, some might even be pretty, pretty strong… Especially nighttime will be much more dangerous. Of course, you can always play in peaceful mode and the mobs won't bother you for one second. Hopefully you'll enjoy this challenging aspect. And if there's a really difficult one, gather some friends and defeat that mob together. You might even get some special loot!
Now, we have also got some VIP updates. First of all, the new Fantasia world will allow people with the VIP6 rank to finally use TNT. Now, there will be some rules to this, but it should be great fun! They now also have the ability to save XP using Scavenger, as this has been long-requested! We decided to give /hats to VIP3 and up, by the way. On top of this, we gave VIP3 and up Magic Carpet! Commands for both of these features can be found on the Commands list.
Another thing we're very excited about is the implementation of achievements. Do you ever feel like you want another thing to work on? A challenge or two? Here's the solution! With wacky names and cool requirements (And perhaps some rewards? Who knows? Well, we do, of course), this should be a lot of fun!
Apart from everything mentioned before, the Build Staff has been working really hard to provide you with the most amazing structures. The new Fantasia spawn will have interior and the remainder of Hub (no, this isn't all) is very close to completion.
One final change has to do with ranks. The times to achieve all playtime-based ranks have been shortened by quite a lot. We hope players will feel more stimulated to achieve the next rank! Especially players with the pink ranks will need help of you guys, the more experienced players. We have an amazing team of Mods and SubMods, but players can always use your assistance.
Now, we are working on getting as many players as possible to make Fantasia's community grow again, this post being proof. We will need your help, though! Please considering donating so we can improve Fantasia and please try to get your friends to join our humble community!
Next, we will be working on other worlds/projects! Be sure to check back occasionally so you don't miss anything! Hopefully you guys will enjoy all these exciting changes and brand-new features.
All the best and to many more years of Fantasia,
On behalf of the Admin Team,
Bladen
Posted: July 16, 2016, 6:55 pm
---
Mojang
Mojang
What a couple of days! There've been celebs, surprise reveals, intense tournaments, amazing costumes, talks by clever-clogs, manic panel shows, comedians and more. Best of all, there's been you: the coolest, smartest and friendliest gaming community on Earth. We love you, and it was great meeting so many of you! The Mojang team are happily exhausted - how about you lot?
Here are just a few of the cool things that happened…
We announced a novel!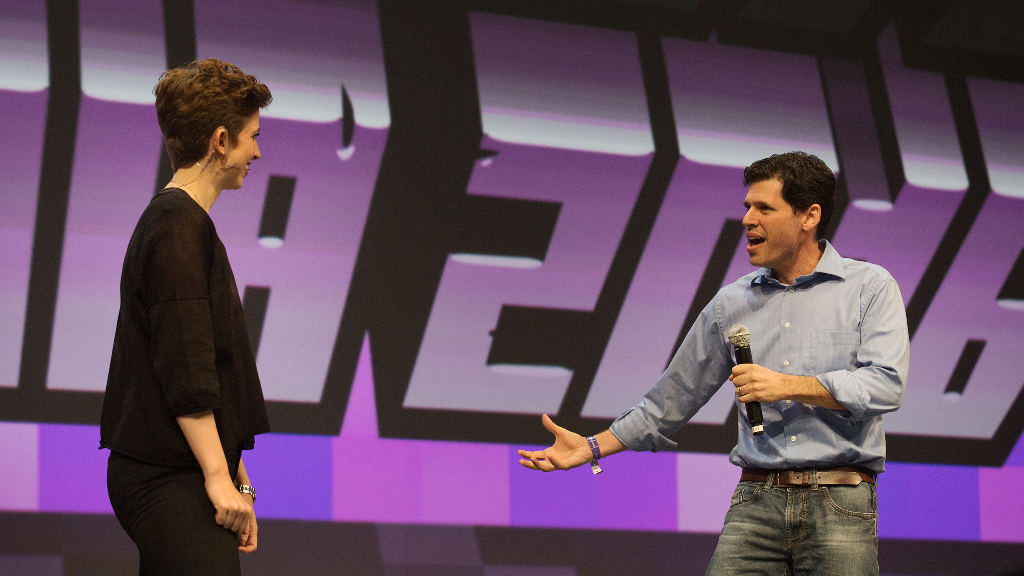 Written by mega-author Max Brooks, no less. He's a big fan of Minecraft, and we're a big fan of him. What a match! Read more about it here.
We launched a site all about Add-Ons!
Add-Ons are the first step on our journey towards bringing even greater levels of customisation to all editions of Minecraft - starting with Pocket and Windows 10. Read more here!
Awesome costumes abounded!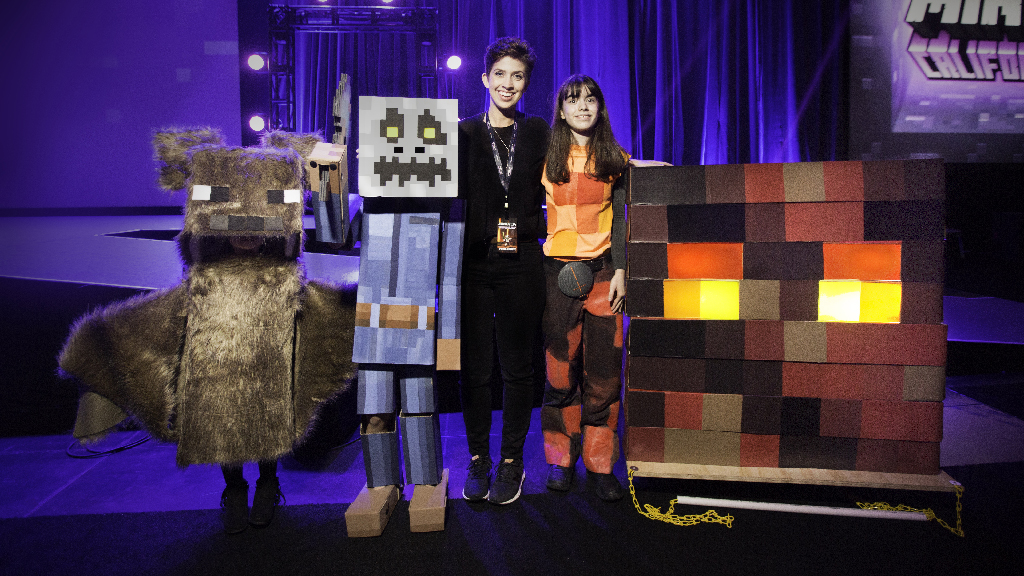 These three cosplay geniuses were the finalists in our costume competition - Vera in the batsuit, Autumn as the White Pumpkin and Ruthie in the incredible expanding Magma Cube costume. Ruthie just edged a very close competition to be crowned the winner. We had OVER TEN THOUSAND votes! OMG!
Good things coming with the Boss Update on Oct 18
Including:
The previously-mentioned Add-Ons!
Importing and exporting worlds on Realms!
Slash commands! Summon things, set the time, teleport to places & more!
Xbox Wireless controller support for Gear VR Edition and Windows 10!
Oculus Touch support for VR mode on Windows 10 Edition!
Cobalt gets a total conversion, mod support and WASD/mouse controls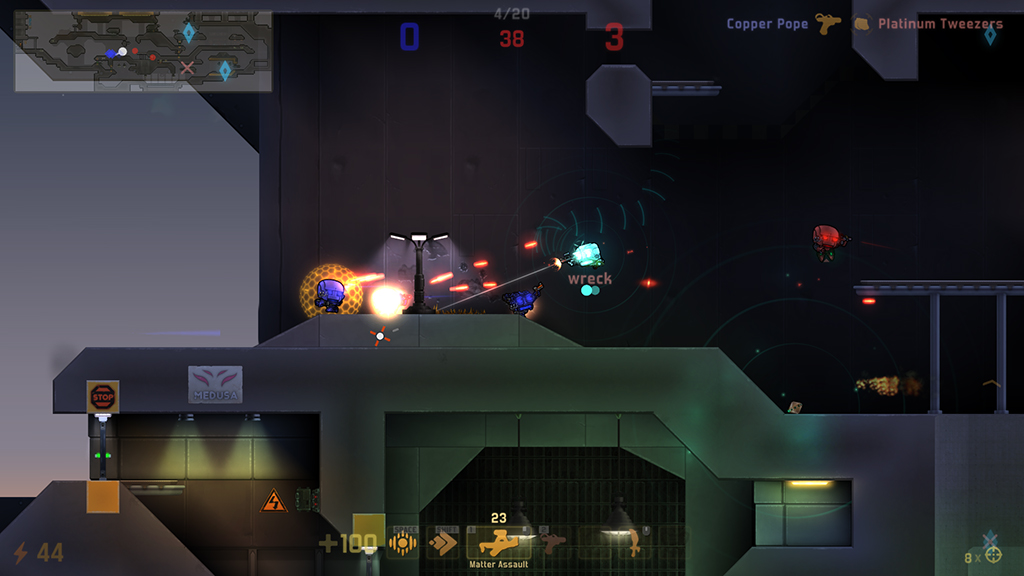 The Cobalt team revealed a Counter-Strike-style team-based bomb defusal gametype. And not only that: cool modding tools, mouse-aim, WASD controls, and more - all to be released in one awesome package on Steam soon. Read (and watch) more here!
We ran some amazing tournaments!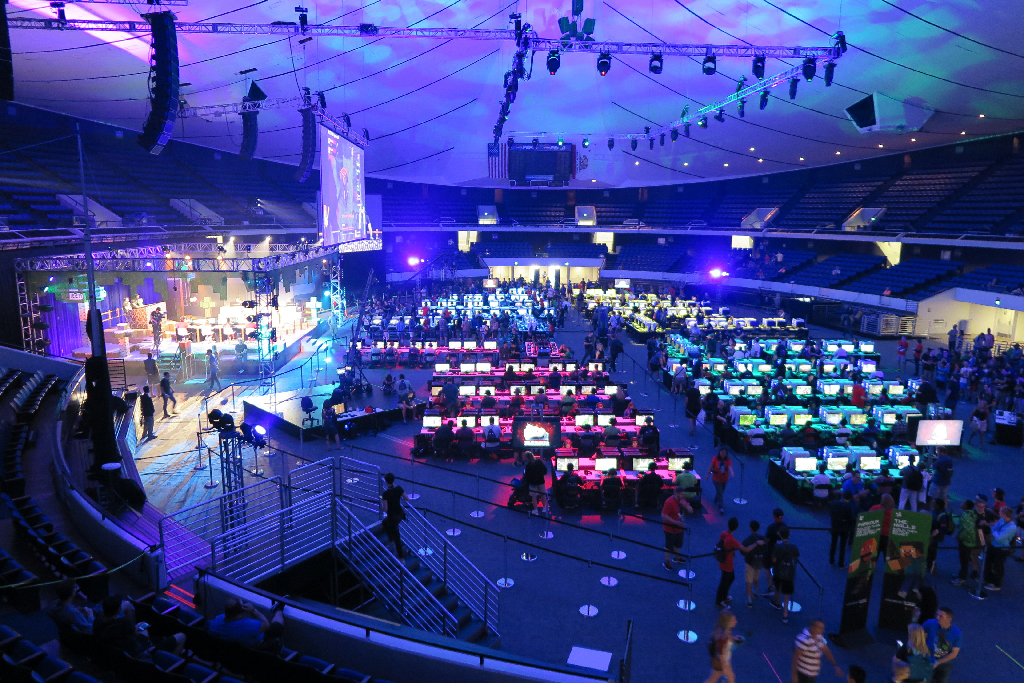 Look at this incredible arena! many thanks to Hypixel and Twitch for their sterling work here. We also had contests between big-name crafters Stampy and Squid (which saw poor Stampy forced to plunge his face into cake) and defeat for Console Edition devs, 4J Studios, as they came second place to Youtuber talent. Finally, four fearless Mojangstas chased down intrepid contestants in Hypixel's Creeper Carts compo.
The Chinese Mythology Mash-Up pack is most auspicious (and gorgeous)
Just look at this thing. I think it might be the most beautiful mash-up pack we've released. It comes on Oct 4 with a hand-crafted map the evokes the mystic East, 41 new skins and 13 themed music tracks and a special Battle map. Read and see more here.
I rode a horse!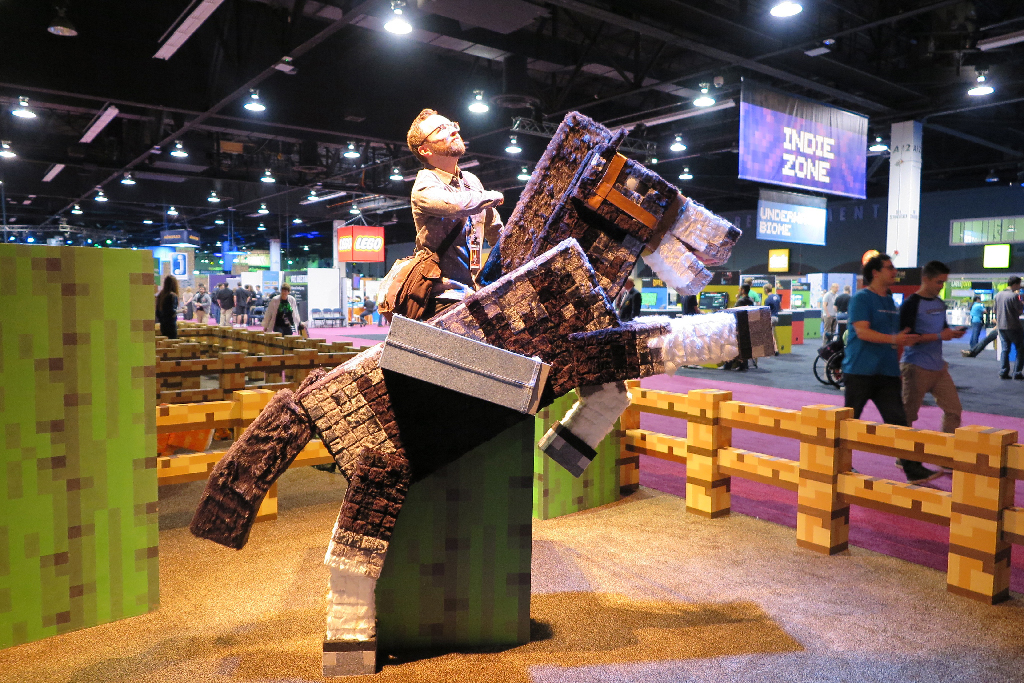 Pretty incredible. In fact there was all kinds of cool stuff on the Expo Hall floor - punchable trees, touchable cakes, flyable ghasts, lovely rubber toys, indie games and loads more. Thanks to all our amazing exhibitors and partners! Here are a few more snaps: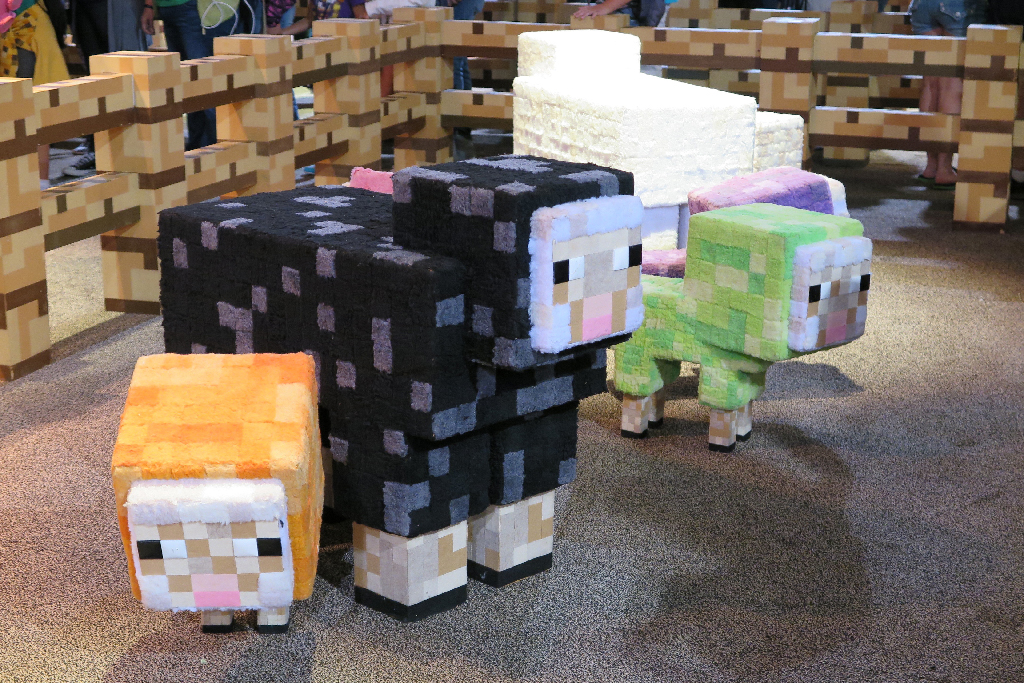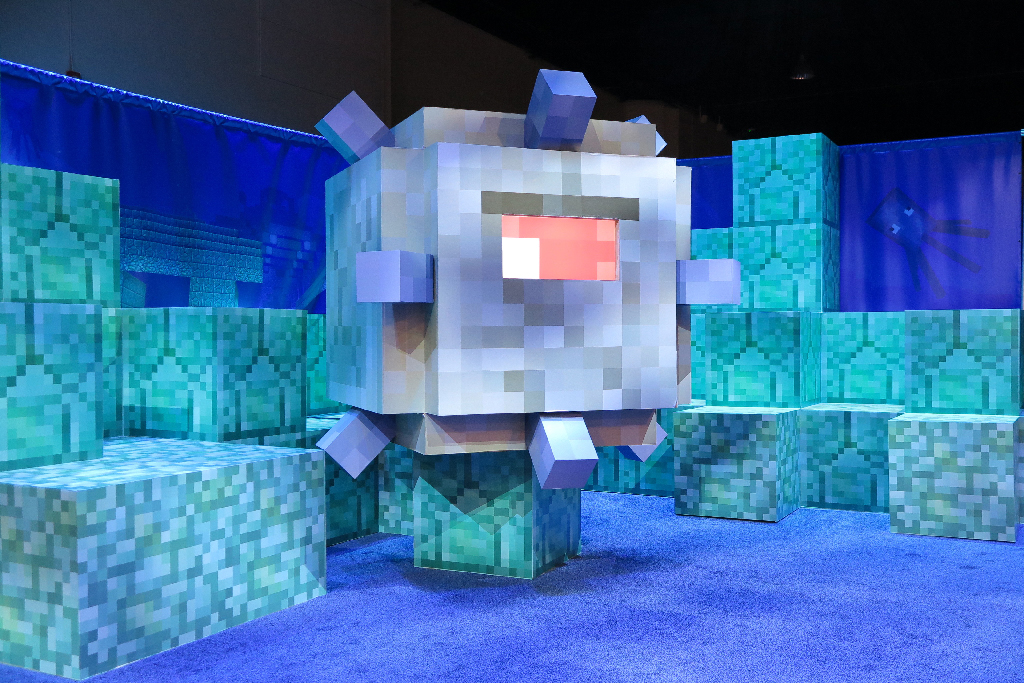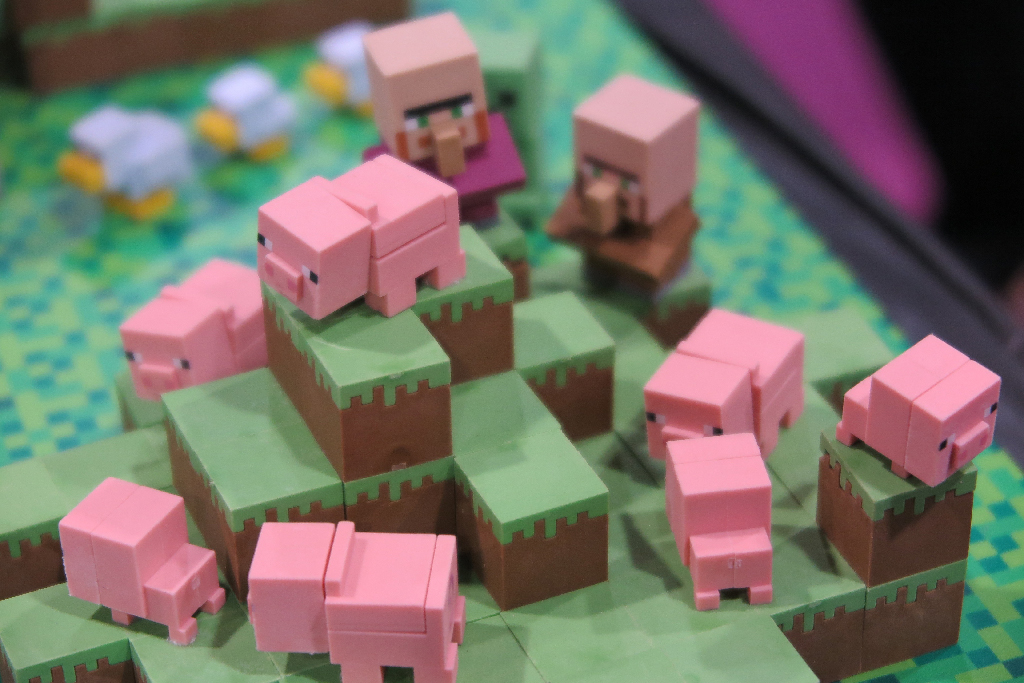 The last shot is of Bandai's super-cute constructible erasers, "Mine-keshi". I love them. They're coming to stores in the US next year. Watch out!
Console Edition update gets bears, banners and more!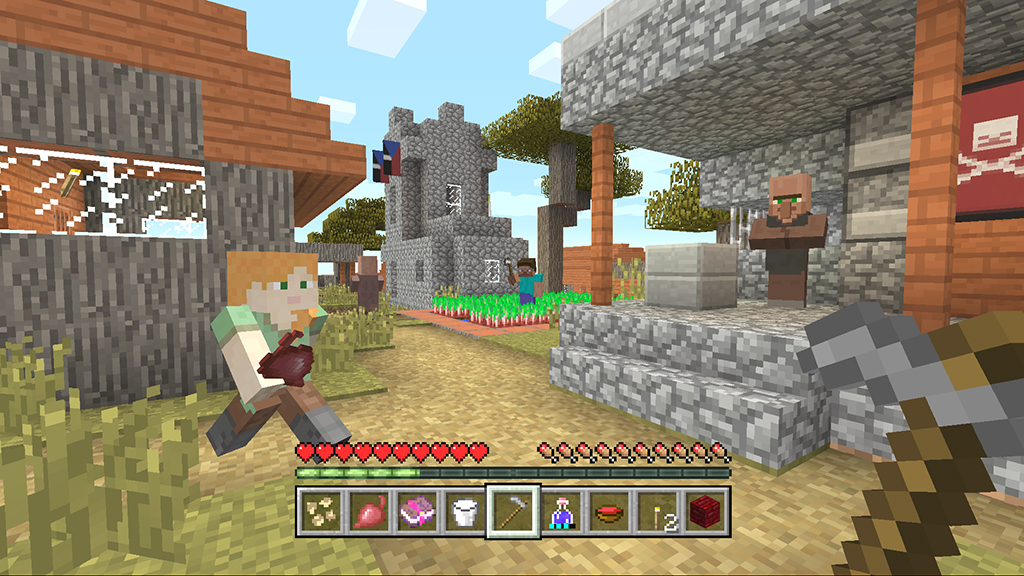 There's loads of good stuff coming in the next free update to Console Edition, which should roll out across our various platforms over Oct 4 and 5. It's got bears, beetroots and banners. Read a more expansive bullet-point list here!
1.11 for PC / Mac brings Illagers, mansions, maps and… LLAMAS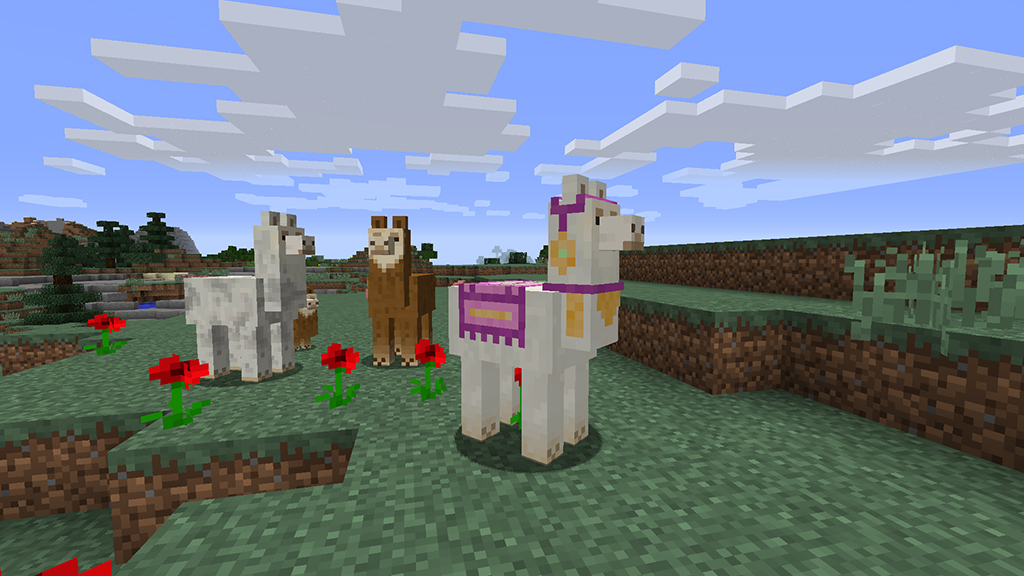 Jens revealed some amazing stuff coming to PC / Mac. You'll see much of it in the snapshot arriving on Wednesday, but in the meantime, here's a sneak peek.
There was a Block By Block charity drive!
Build a better world with Minecraft! Block By Block is a supercool partnership between Mojang and UN-Habitat. We use Minecraft to help urban communities participate in the redesign of their public spaces, making them friendlier, prettier, safer and more useful! It's an amazing programme. Check out our work, and donate today to help transform communities all around the globe: blockbyblock.org
We had an amazing Evening Show!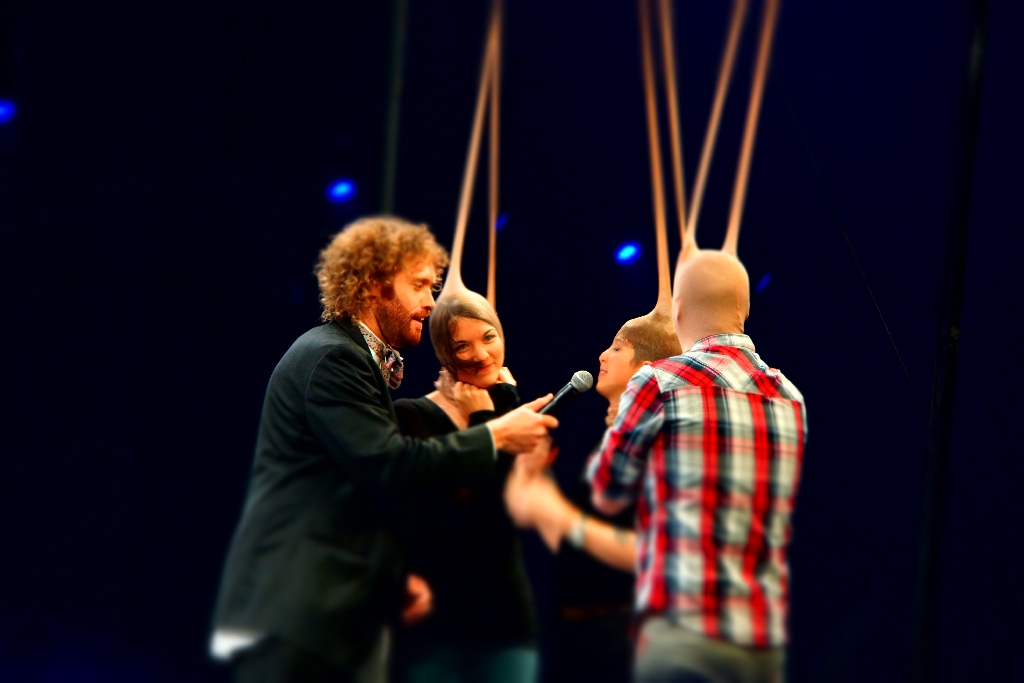 The heroic TJ Miller did a smashing job of compering contests between top 'tubers, stealing children's toys and generally delivering a performance of barely-contained mania. He's a funny man. Go see him perform. Then the evening was capped out by Fitz and the Tantrums - much dancing ensued!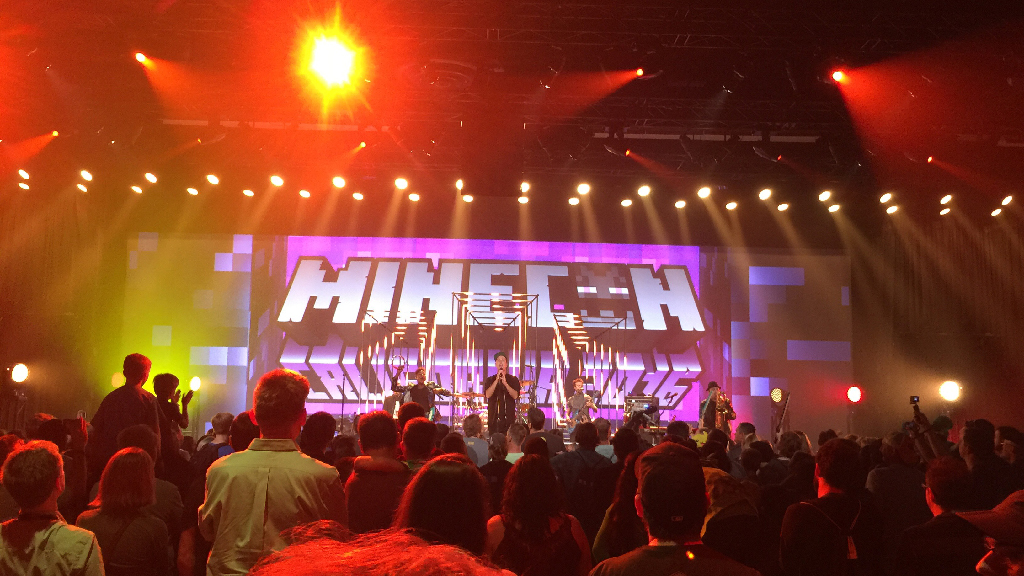 Phew! This post could be eight times as long and still not cover all the amazing stuff that happened. Suffice to say, we're all off for a nice cup of cocoa and an early night. Thanks for coming and/or watching everyone! See you again next year!
Cheerio!
Marsh - @marshdavies
Posted: September 26, 2016, 1:00 am
---
News
Get all the latest online gaming news at Curse.com! Our news is the best!
Curse Client v5 is being phased out, and all of its functionality is being added to the Curse app. This will occur for WoW mod users in the near future, and for other Curse modding communities later. We'll have a way for WoW mod users who want to check it out earlier to opt-in and provide feedback before we complete everyone's migration to the app.
Posted: September 9, 2016, 9:15 am
---
Minecraft on reddit
Minecraft community on reddit. Please read the [rules](http://www.reddit.com/r/Minecraft/wiki/rules) before posting.
Posted: September 26, 2016, 2:16 am
---
The BEST Free Minecraft Mods on the net!
The BEST Free Minecraft Mods on the net!
LomLib mod has come to the world of Minecraft as a tiny mod. It has come with Minecraft versions 1.6.4, 1.6.2 and 1.5.2. This mod accumulates some common functions and features that are to be often used in some other mods.
This mod is currently being used to make-
MechroMagiks

DivingGear

Equivalency

Craft Cards
Installation:
Posted: January 1, 1970, 12:00 am
---
HungryFEED can't get feed. Don't be mad at HungryFEED. SimplePie reported: This XML document is invalid, likely due to invalid characters. XML error: junk after document element at line 2, column 35
---
HungryFEED can't get feed. Don't be mad at HungryFEED. SimplePie reported: A feed could not be found at http://www.theshaftpodcast.com/. A feed with an invalid mime type may fall victim to this error, or SimplePie was unable to auto-discover it.. Use force_feed() if you are certain this URL is a real feed.
---
crafthub.net - Latest entries
The latest entries on the site crafthub.net
Hey there people. We have obviously been heavily inactive. Quiet, but not dead. Just sort of lurking, in the shadows right over there. Hi!
Things have changed in the world of Minecraft. We still enjoy it, but we're shifting focus a little. Not so much changing, as shedding more light and devoting some attention to the things we've been doing all along anyhow. We used to blog focusing on Minecraft on the whole. As of recently, however, we're going to focus on our community.
We've always had a pretty great group of gamers hanging around, and our core community has kept in contact through our Teamspeak and other social media platforms such as Telegram, and Discord. Some of you have captured some great candid moments while gaming with us and shared them with the group. We want to shift focus to this community interaction.
We plan to continue running a Minecraft server, but we're also going to focus on the games that the community comes together to play, and push the content based around these as well.
We're still going to be community supported, shrinking and growing within the confines of what our player base helps us afford, and we'll get that set up hopefully in the near future. Once that's cemented, we'll lay out what contributing to the community affords and what benefits that might earn. We're still hashing out the details and trying to make it worth it for our users.
We hope you'll stick around through these changes, and we intend to continue providing a decent atmosphere in which to game. Here comes the future, Crafthubians. It looks fun.
-mechanicaljack
Posted: June 23, 2016, 11:30 pm